We love stories and real moments of laughter, spontaneity, tears of joy and love.
We are passionate artists, who capture really wonderful people, moments, love, laughter and everything that happens on your wedding day.
We believe creativity is heightened through thinking differently and embracing diversity. We continually expand our inspiration.
Success occurs at the intersection of talent, hard work, and humility.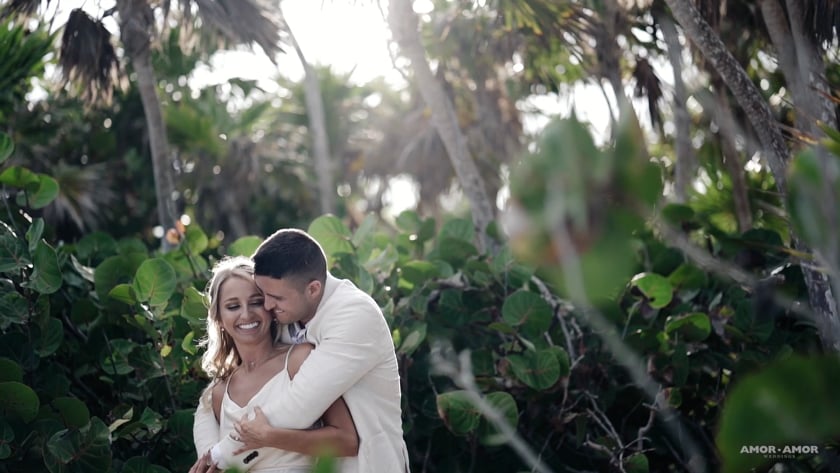 We are a husband and wife team of wedding photography and videography
We are a full time production company specializing in high quality photography and wedding films. With a tasteful, sensitive and discreet approach we capture the essence of your important day. We manage, create and deliver every single wedding we take on.
Samantha & Facundo
CANCUN WEDDING PHOTOGRAPHER AND FILMMAKER
More about us
OUR PORTFOLIO
We are passionate artists who are honed in their craft and ready to capture a one of your life's biggest milestones
BEST DESTINATION WEDDINGS
Every wedding is a new challenge
Both, your photos and wedding film will tell the story of your love and you will be proud to show them to your family and friends. We cater to clients who value the authentic nature of our images and appreciate the skill involved in being able to capture those real moments during the chaos of a wedding day.
Our style is ever evolving, our goal is to shoot in a way that reflects your style and personality. Photographing you at your most beautiful, capturing genuine expressions and once in a lifetime moments, is what makes our job so rewarding.
LOVE & FEELINGS
With the ephemeral nature of life, our wedding photography and videography lends itself to preserving these fleeting moments into modern tellings of love, life, and its celebrations.
Our goal is to create fun, emotional, breathtaking films for our clients. Every tears, every smile, every kiss will be recorded to back to this magical moment.
We aim to tell your wonderfully unique love story byways of creating a cinematic experience that you will treasure forever.
We like spontaneity, photos without forced poses to capture real moments. That is what is reflected in our images.
Our wedding photography and videography philosophy is to strive to capture the intangible, the inexplicable and find the story behind each moment and portray it with artistry and intent.
Weddings are full of emotions ... Happiness to nerves, uncertainty to hope, joy to fulfillment.
A strong relationship is the foundation to capture incredibly your wedding day.
We accomplish our unique approach of storytelling through this fundamental approach of getting to know you. We will walk you through the entire process.
get in Touch
We succeed when our clients are happy... You are our true motivation!
We have packages starting from USD 4,000
Follow Us
@amoramor_weddings